Need Help?
Stay Up to date
We're Hiring
Products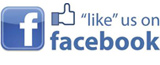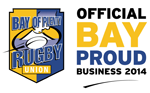 Blogs
New GME Water & Dust proof compact hand held UHF CB Radios
11 July 2013
Introducing the new TX685 & TX6150 compact 3 and 5 watt UHF CB hand held radios from GME. These Australian designed radios are built rugged and are the first water and dust proof radios available with a 24 hour battery life* – ideal for the harsh New Zealand environment.
Tough enough to rinse under the tap after a muddy day on the farm or, if you're a little more adventurous, small enough to fit in a jacket pocket hiking or 4WDriving with your mates.
These rugged radios are packed with a range of innovative software and hardware features in scanning and memory, signal processing and privacy, ensuring consistent reliable communications even in the most extreme conditions.
With a range of high quality accessories, these radios are even suitable for reliable team communication within construction and maintenance, agriculture and primary industry, destination and event management.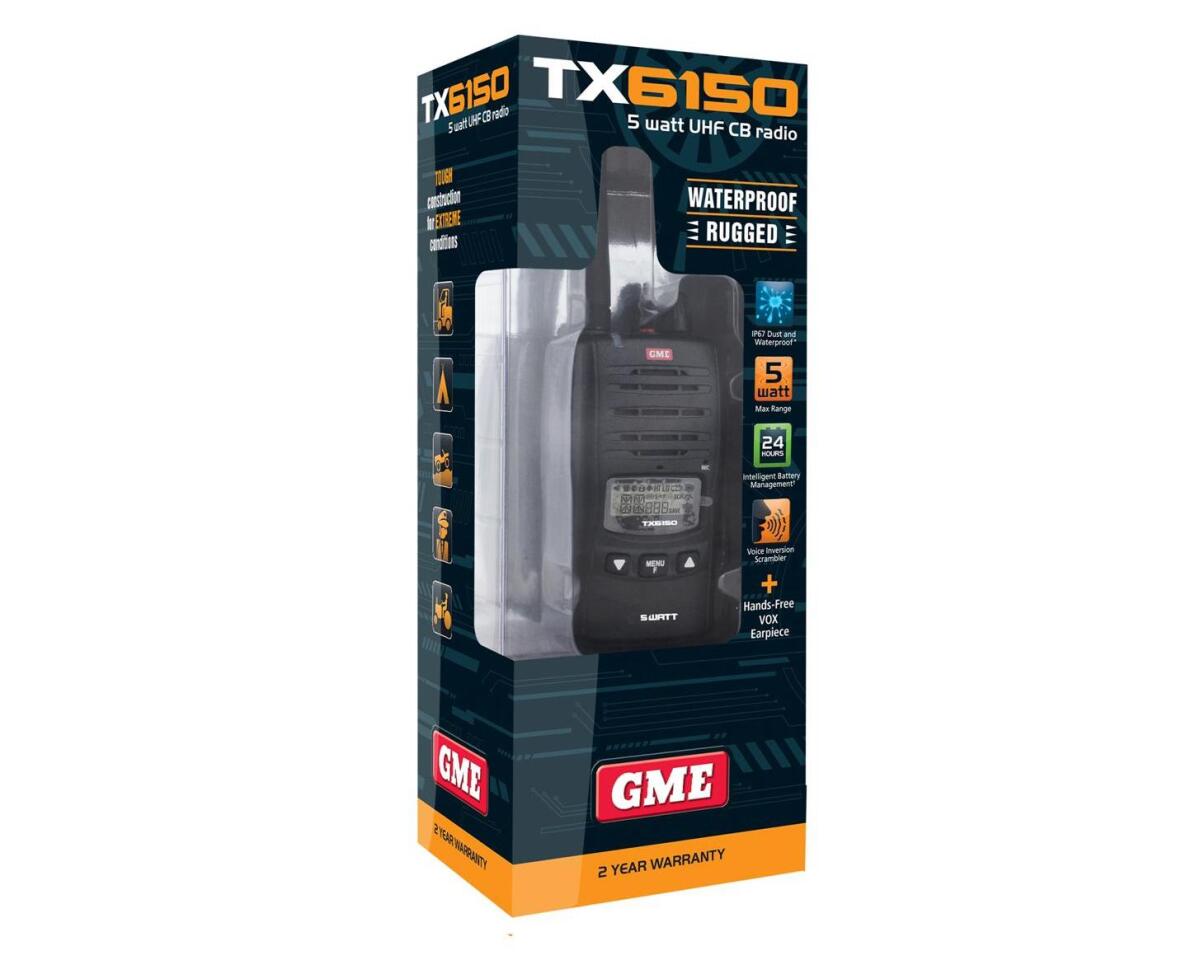 The Features:
IP67 Water and Dust proof – Submersible up to 1 metre for a period of 30 minutes
Built rugged - Solid die-cast chassis and operational between -20° to +60° degrees Celsius.
Powerful 3 or 5 watt versions - combined with GMEs enhanced receive sensitivity and selectivity, intelligent power management and the helical wound antenna, these radios maximise transmit range and boost reception distance.
Intelligent Battery Management – powerful 2000mAh (TX685) and 2200mAh (TX6150) Lithium Ion battery packs and intelligent hardware and software design allows the radios to operate for a minimum 24 hours on low power or 15 hours on high power* - 50% longer than any other 5 watt UHF CB radio.
Privacy – 38 CTCSS, 104 DCS tones and Voice Inversion Scrambler for those users looking for greater privacy and less interruption.
Scanning – Open scan with user selectable channel memory and dual watch
Genuine 2 year GME warranty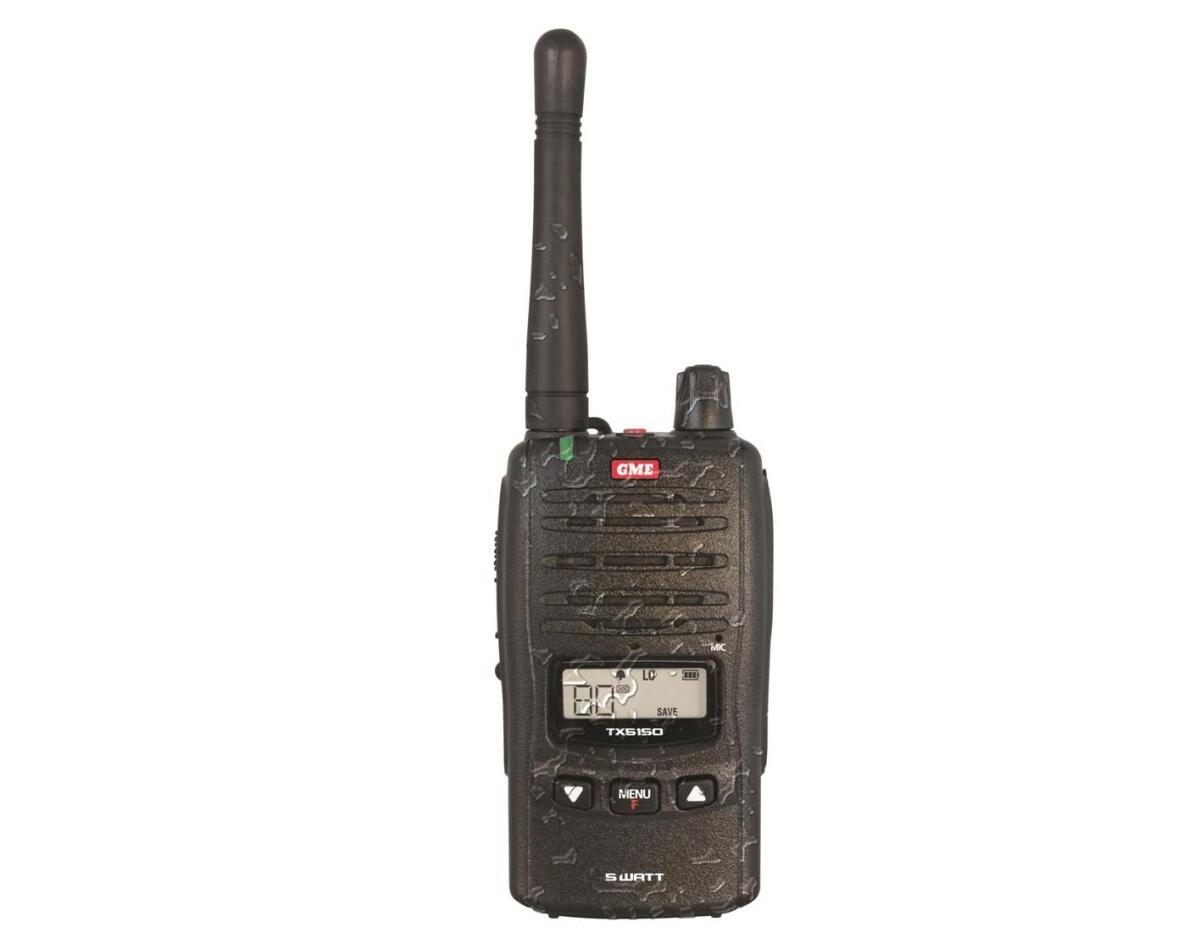 Transmit (TX)
TX685 – 3/1 watt and TX6150 – 5/1 watt RF Power: Selectable transmitter power allows you to conserve battery power when transmitting in close range by using the Low Power setting.
Individually Programmable Duplex Function: User selectable for only those individual channels in your area that have repeaters, leaving others free for use as extra simplex channels.
Receive (RX)
80 Channels 477 UHF CB
Power-save Feature: Conserves battery power by sleeping during periods of inactivity.
Calling Tone and Roger beep: Alerts you to incoming calls.
Signal Receive Indicator
Scanning and Memory Functions
Microprocessor Controlled Frequency synthesiser: Allows user programmable control of scanning, channel memories & selected feature options.
Programmable scan Function: Scans up to 80 UHF CB channels.
Dual Watch: Monitors two channels simultaneously.
Privacy Functions
Voice Inversion Scrambler: A simple voice scrambler that, when activated, will make your transmission and reception intelligible only to other radios using the same scrambler technology.
38 CTCSS & 104 DCS Tones: A built-in Continuous Tone Coded Squelch System and a Digital Coded Squelch option to provide quiet channel operation.
Physical Properties
Water & Dust proof IP67: Provides protection against dust and temporary immersion in water.
Removable Flexible Antenna
Rugged Construction with Die-cast Chassis
User Controls and Interface
Keypad lock: Prevents accidental button presses.
Backlit LCD: For night viewing.
Chargers: Desktop Charger – TX685, Desktop Rapid Charger – TX6150
*24 hour operating time using low output power, 15 hours using high output power. Based on 5% transmitting, 5% receiving and 90% waiting mode.
CLICK HERE to PURCHASE a GME TX685
CLICK HERE to PURCHASE a GME TX6150