Products
Need Help?
Stay Up to date
We're Hiring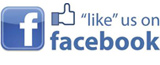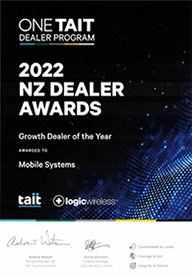 Webfleet - Fleet Management Software
Product may not be held in stock or there's more details required to affect purchase.
Please click "MAKE AN INQUIRY" to initiate your order
Product requires customisation - Delivery time may exceed 7 days
Webfleet - fleet management software
Connect Your Workforce and Business
You can only manage what you can measure
Webfleet's easy-to-use 'Software as a Service' technology helps anyone with commercial vehicles, manage them more effectively. Its innovative online fleet management capab­il­ities give you total visibility of everything that happens on the road.
With Webfleet you are always connected with your team on the road. You get to know where your vehicles are, and how they are being used, from any mobile device of your choice.
It makes your fleet performance data visible, so you know current status, and also when and where to take action when it is needed. Take real-time traffic information into account when assigning the most appropriate driver to the next job, or ensure they take a predefined route, that you send directly to their Driver Terminal.
Contact us here at Mobile Systems Ltd to explore options & pricing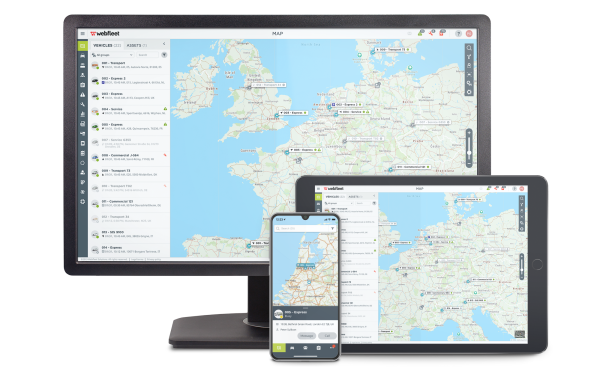 Manage on the move
The Webfleet Mobile app is available for iOS and Android. You can also manage your fleet on a tablet, a laptop or a desktop computer entering Webfleet through your web browser.
Click here to Learn more about managing on the move⁠
Scalable solution
Webfleet is one of the world's leading Software-as-a-Service (SaaS) fleet management software solutions. No matter how big or small your business is, Webfleet can improve vehicle performance, save on fuel, support driver performance and, with enhanced visibility of your data, increase overall fleet efficiency.
Increase visibility by seeing data from multiple sources all in one interface with Webfleet Plugins. You can add tried and tested applic­a­tions, like temperature or tyre pressure sensors, from your existing applic­a­tions, or from our range of integration partners.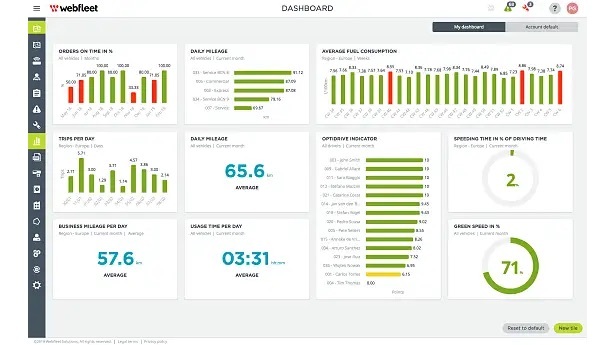 Dashboard
With Webfleet's dashboard you can see your business performance at a glance. KPIs can track the performance of individuals, benchmark teams or give a simple overview of your whole operation. Up to 27 KPIs can be displayed, enabling you to track performance against your pre-defined KPI's in real time.
Reporting
Webfleet gives you instant access to the information that matters, meaning you can spot trends over time and make smarter, and more informed decisions for your business.
Click here to Learn more about Webfleet reports⁠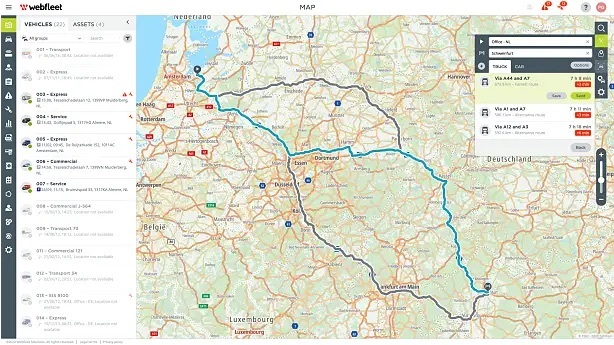 A-B route planning in Webfleet with the capability to send routes direct to drivers
Adjust variables such as location/time of departure/arrival, as well as vehicle type
Select whether to include current traffic in planning
Get a choice of alternative routes as well as suggested fastest route
Customise your route - waypoints can easily be added via free text search, point on map or by dragging and dropping the suggested route
Send planned routes to the latest Driver Terminals
Calculate your shipping
You currently don't have any products in your cart.
For a shipping estimate on this product, please select your region from the dropdown.
Specifications
Service Tariffs Per Vehicle
| | | |
| --- | --- | --- |
| Webfleet-Nat-Nav | Navigation with a PRO terminal | $27+gst per mth |
| | | |
| --- | --- | --- |
| Webfleet-Nat-Live | Navigation and Live Traffic | $32+gst per mth |

Please wait...